Downtown Boise Tour
Posted by Greg Langhaim on Tuesday, October 3, 2023 at 8:57:08 AM
By Greg Langhaim / October 3, 2023
Comment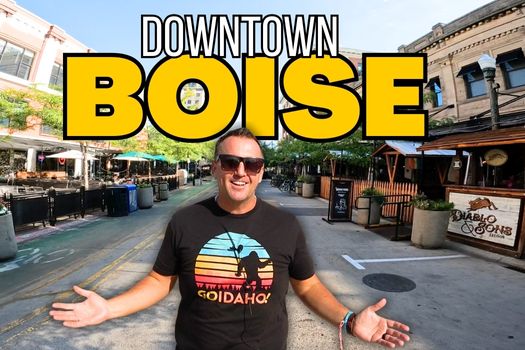 I ablsolutely love Downtown. So much going on. I recently made walking tour of Downtown Boise . .
Downtown Boise, Idaho is the vibrant and cultural heart of the state's capital city. It serves as the central business district, as well as a hub for entertainment, dining, shopping, and cultural attractions. Here are some key highlights and features of Downtown Boise:
State Capitol Building: Downtown Boise is home to the Idaho State Capitol Building, an iconic neoclassical structure completed in 1920. It serves as the seat of the state government and is an architectural gem that often hosts events and tours.
Boise River Greenbelt: The Boise River runs adjacent to Downtown Boise, and the Greenbelt is a beautiful recreational trail system that follows the river's path. It's perfect for walking, jogging, biking, and picnicking, offering a scenic escape within the city.
Cultural Attractions: Downtown Boise has a thriving arts and culture scene. The Boise Art Museum showcases a diverse collection of contemporary and traditional art, while the Idaho Historical Museum offers insights into the state's history. The Egyptian Theatre is a historic venue that hosts concerts, films, and live performances.
Restaurants and Dining: The downtown area boasts a wide range of dining options, from casual eateries to upscale restaurants. You can find diverse cuisines, including American, Italian, Asian, and more. The Basque Block is known for its Basque restaurants, celebrating the city's Basque heritage.
Shopping: Downtown Boise offers a mix of boutique shops, galleries, and larger retail stores. Eighth Street Marketplace is a popular shopping district, and you can find everything from clothing and accessories to home decor and unique gifts.
Entertainment: Downtown Boise has a lively nightlife with numerous bars, clubs, and live music venues. It's a great place to enjoy a night out with friends or catch a live performance.
Boise Farmers Market: During the warmer months, the Boise Farmers Market takes place in the heart of downtown. It's an excellent place to buy fresh produce, artisanal goods, and local crafts.
Festivals and Events: Downtown Boise hosts various festivals and events throughout the year, including the Treefort Music Festival, Boise Art in the Park, Alive After Five, and the Twilight Criterium, which features professional bicycle racing.
Boise Centre: This convention center located in downtown Boise provides event space for meetings, conferences, and exhibitions. It's a hub for business events in the city.
Boise River Park: Located just a short drive from downtown, the Boise River Park offers opportunities for kayaking, paddleboarding, and tubing on the river, making it a popular recreational area for outdoor enthusiasts.
Downtown Boise is known for its welcoming and friendly atmosphere, making it a popular destination for residents and visitors alike. It combines modern amenities with a touch of historic charm, making it a delightful place to explore and enjoy the culture and beauty of Idaho's capital city.